9 August commemorates Women's Day in South Africa. On this day  in 1956, over 20 000 women of all races marched to the Union Buildings  in Pretoria, to hand over a petition against pass laws. This apartheid legislation required African persons to carry the "pass", special identification documents which curtailed their freedom of movement.
The march was organised by the Federation of South African Women (FEDSAW), a federation committed to challenging the idea that 'a woman's place is in the kitchen', declaring it instead to be 'everywhere. The leaders of the march Sophia Williams-De Bruyn, Lilian Ngoyi, Rahima Moosa and Helen Joseph. The women filled the entire amphitheatre outside the Union Bulidings.
In her book, Women and Resistance in South Africa, Cheryl Walker describes the scene:
Many of the African women wore traditional dress, others wore the Congress colours, green, black and gold; Indian women were clothed in white saris. Many women had babies on their backs and some domestic workers brought their white employers' children along with them. Throughout the demonstration the huge crowd displayed a discipline and dignity that was deeply impressive (Walker,  1991: 195).
Over 100 000 signatures marked a number of petitions which were left with the prime minister at the time, J.G. Stijdom. After the petition was handed over they marched and sang Wathint'Abafazi Wathint'imbokodo meaning 'Now you have touched the women, you have struck a rock'.
You strike a woman you strike a rock
Since then, the phrase 'wathint' abafazi, wathint' imbokodo' – You Strike a Woman, You Strike a Rock – has come to represent the courage and strength of South African women.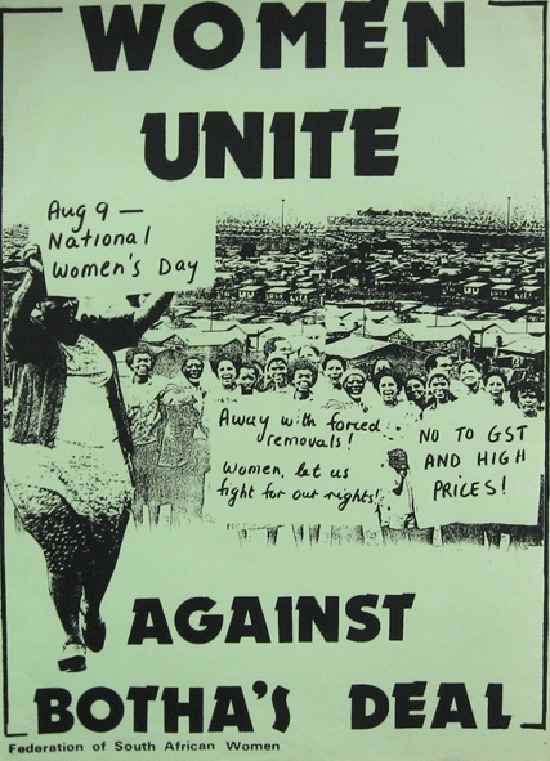 poster from the Apartheid Museum 
To learn more about the Women's March and the history of Women's Day, check out SA history online.
Faith 47, one of my favourite South African graffiti artists, gives a contemporary take on Women's Day which I love. There are still many issues that South African women have to face. Apartheid may be history, but inequality, poverty, rape and a patriarchal society are just some of the issues women have to deal with.  Wathint'Abafazi Wathint'imbokodo.
To all South African women, Happy Women's Day!
What does Women's Day mean to you?